Upcoming EMS Webinar: –October 4t
h

, 3:30 PM (CT)

"The Freedom Blueprint: Double Your Business with Inner Peace and an Unstoppable Mindset!"

With Special Guest Expert: Mario Lanzarotti

ONLINE EVENT

Register now and be registered for all future EMS Events.

REGISTER NOW TO JOIN US ONLINE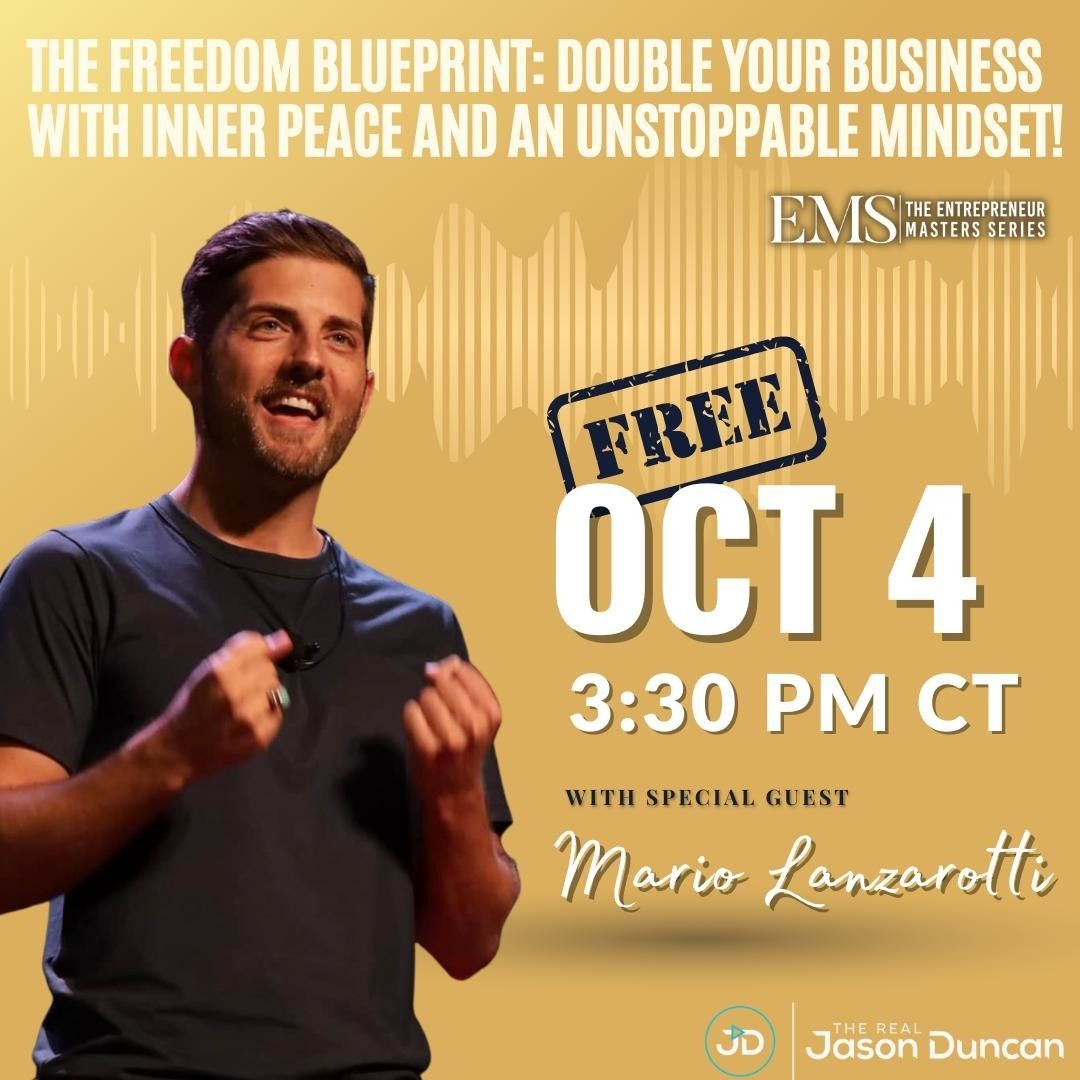 Are you an entrepreneur seeking unprecedented growth without compromising inner peace?

Join guest expert Mario Lanzarotti, The ZenPreneur, in this transformative 90-minute webinar designed exclusively
for ambitious entrepreneurs. As a High-Performance Coach and Conscious Leader, Mario has guided CEOs, Olympians, and mission-driven entrepreneurs to achieve remarkable results in record time.

In this exclusive event, you'll discover the Freedom Blueprint—an innovative approach to double your business success while maintaining balance and focus. Gain mental clarity, make confident decisions, and conquer challenges with ease. The webinar will be highly interactive, featuring live Q&A sessions with Mario, providing you with personalized insights. Reserve your spot now and become the architect of your own freedom and success. Don't miss this opportunity to double your business with inner peace and an unstoppable mindset.
REGISTER NOW TO JOIN US ONLINE!
Meet our upcoming Guest Expert,
 Mario Lanzarotti

Meet Mario Lanzarotti - the founder of the ZenPreneur movement. Mario believes that true entrepreneurial success comes from operating in one's zone of genius with inner peace, balance, and
purpose.

With that, he challenges the outdated paradigm that says: success requires constant grinding and sacrificing one's well being and relationships.

As a High Performance Coach, TEDx Speaker, and Conscious Leader, Mario is on a mission to help entrepreneurs make more money in half the time.

With over 1.1 million views, his TEDx talk stands testimony as to how his unique methodologies enable high-performers to gain the mental clarity and focus necessary to achieve what would normally take years in just 6 months or less.

He is a pioneer in using higher states of consciousness to create wealth and enjoy freedom in all aspects of life, inspiring entrepreneurs worldwide to achieve their biggest dreams without compromising their well-being.
REGISTER NOW
Register Once and Get
Unlimited Access for FREE!*
See below for a list of past episodes as well as some of the upcoming episodes and guest experts.
(*) Free access only includes webinars, not live in-person events.
Upcoming EMS LIVE Webinar: –November 15t
h

, 12:30 PM (CT)

"Unlock Your Hidden Purpose: Transform Your Business with Ikigai"

With Special Guest Expert: Norm Tam

ONLINE AND IN PERSON EVENT

Register now and be registered for all future EMS Events.
I'm The Real Jason Duncan, and I've helped thousands of entrepreneurs start, scale, enjoy and exit their businesses.
I'm your expert host and facilitator of EMS. I am not only the creator of the Entrepreneur Masters Series but also a highly experienced business coach and strategist with a track record of launching successful companies. I've been featured in top publications, including Inc. 5000 and Entrepreneur magazine, and have helped entrepreneurs develop systems and processes to scale their businesses for maximum profitability. In addition to hosting EMS, I also host a top-rated podcast called The Root of All Success, which is internationally syndicated by the C-Suite Radio Network. My extensive experience in coaching and facilitating events ensures that you'll get the most out of your EMS experience. With me as your guide, you'll learn from top experts in entrepreneurship, leadership, sales, and financial literacy, and leave with practical strategies for taking your business to the next level.
Register Once and Get Unlimited Access for FREE!*
The Entrepreneur Masters Series is a LIVE monthly webinar series. You only need to register ONCE to get unlimited access to every live event.
All registrants get access to each live event, plus you get access to all replays of every webinar. Registration guarantees you never miss a chance to learn a skill that will help you succeed more quickly.
(*) Free access only includes webinars, not live in-person events.