Meet our upcoming Guest Expert, Mike Pacchione
Mike Pacchione is an international speaker and speech coach who specializes in helping coaches, athletes and entrepreneurs deliver smart and engaging messages to audiences of all sizes. He has trained more than 10,000 employees from companies like Nike, Microsoft and Slack. Many of Mike's clients are industry leaders with 7-figure businesses, best-selling books, and thousands of followers. That includes clients like U.S. Olympic gold medalist: Scott Hamilton, New York Times bestselling author: James Clear, and popular online entrepreneurs: Pat Flynn and Amy Porterfield. Mike's work has been featured in Entrepreneur and Toastmasters magazine. He has been on podcasts such as Smart Passive Income, Building a Storybrand, and The Speaker Lab. He hasalso spoken at conferences like SXSW, Think Better Live Better, Josh Shipp's Rock the Stage, and The Northwest Communication Association. He will give you a dollar if you can pronounce his last name correctly. Check his website at
www.bestspeech.co
Register Once and Get
Unlimited Access for FREE!
See below for a list of past episodes as well as some of the upcoming episodes and guest experts.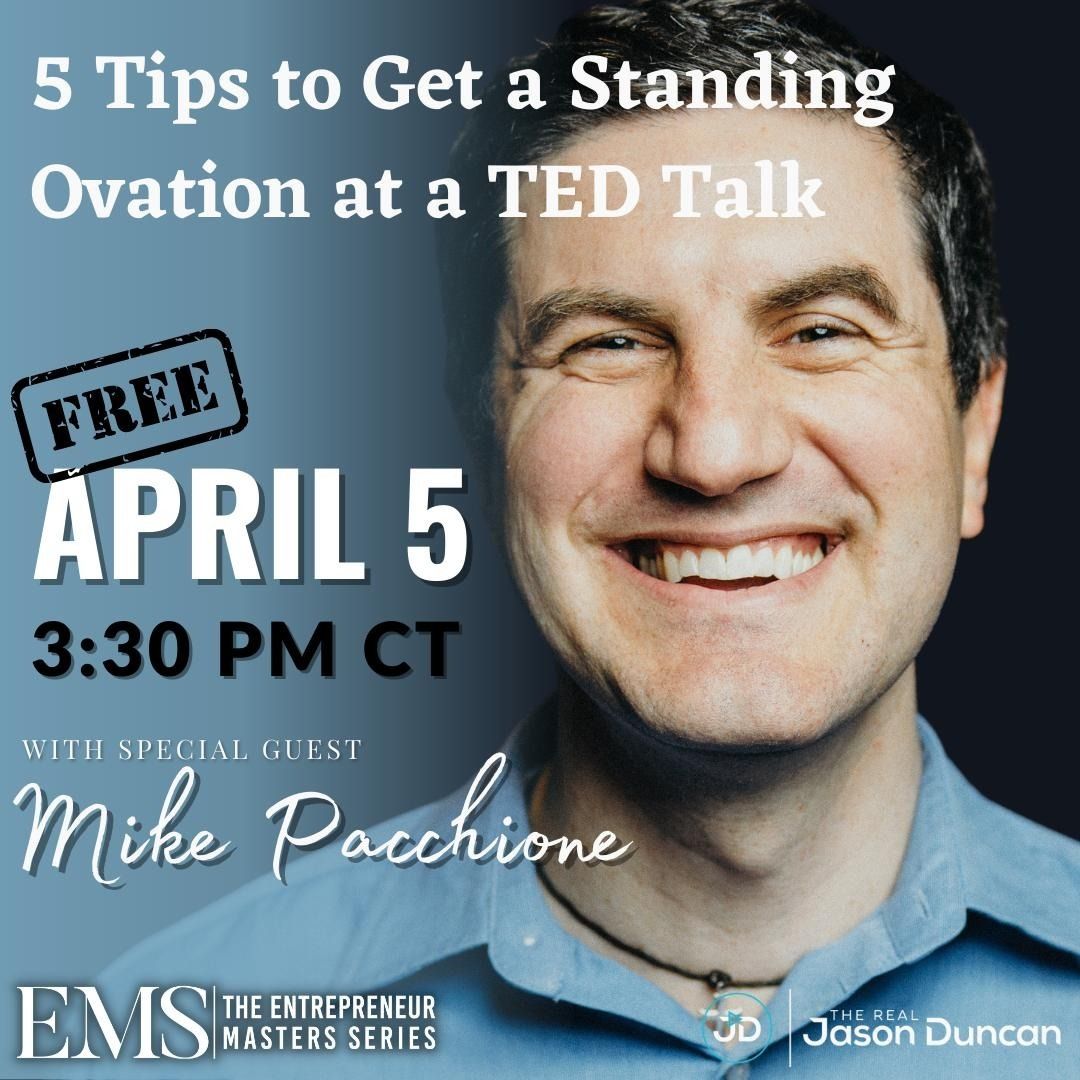 "5 Tips to Get a Standing Ovation at a TED Talk"

With Special Guest Expert: Mike Pacchione
I'm The Real Jason Duncan, and I've helped thousands of entrepreneurs start, scale, enjoy and exit their businesses.
Since 2010, the businesses I launched have been featured in several publications, including the Inc. 5000 list as one of the fastest-growing privately held companies in America and one of Entrepreneur magazine's top entrepreneurial companies in America. Through my coaching platform, I work with entrepreneurs to develop systems and processes to scale so they can work less & make more, or what I call "Exit Without Exiting". My Business Accelerator Group Coaching Cohort has helped entrepreneurs just like you work through the steps to exit without exiting. And I coach them live and in-person!
Past Guest Experts & Topics
5 Mistakes Most Entrepreneurs Make when Building Their Website
Nathan Ruff
How to Use Storytelling to Sell. Anything. Including Your Business
Hank Norman
Taxes Suck! How to Eliminate or Defer 100% of Your Capital Gains
Brett Swarts
The Secrets to Setting Up a Bullet-Proof Business Partnership
Mike Mumola
Register Once and Get Unlimited Access for FREE!
The Entrepreneur Masters Series is a LIVE monthly webinar series. You only need to register ONCE to get unlimited access to every live event.
All registrants get access to each live event, plus you get access to all replays of every webinar. Registration guarantees you never miss a chance to learn a skill that will help you succeed more quickly.